TransApp Japan - iPhone/Andoid translation services for Japanese market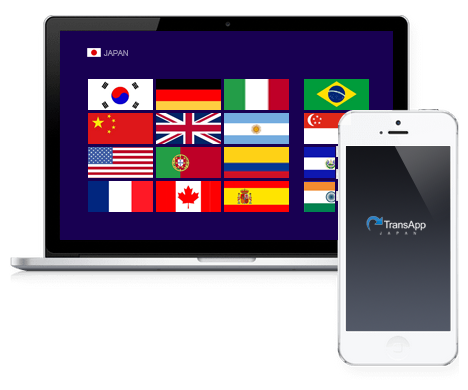 TransApp
TransApp handles not only translation but post-translation promotion. We promote via Japanese media, and work to acquire new users for your app.*Promotional services are optional.
The iPhone/Android App Translation Team combines a network of over 500 professional translators with experienced app development engineers.
Features
Translation and Localization
Apps are localized in order to readily appeal to target Japanese users, with reference to the application's features, in-game environment, target audience and so on.
We are also developers!
A full lineup of million-hit apps! 3rd place in Top Charts--Top Free apps on Japan's App Store
1,200,000 Download !
2,500,000 Download !
1,000,000 Download !
Leave Promotion in Japan to Us
After translating your app, we can carry out promotion in Japanese media, helping you to attract users. *Promotion service is separate from translation. Please inquire for details.
Translation Service
*Please contact us regarding other languages.
Submitting to Japanese Review Sites
Rates *Translation fee for posting to Japanese review sites is a flat 260 USD.
We can handle submissions to approximately 80 app review sites in Japan. Translation and application takes about five business days following receipt of the completed request form.
*Note: Site listings cannot be guaranteed.
Promotion
ASO, Mobile Ad Networks, CPA programs, PPC, Video Promotion, PR & Guest blogging, community management, and even more.
Contact
For inquiries regarding TransApp, please contact us at
info@transapp.jp